THE AMCHAM POST MAY 19 2022 / PAGE II

STANFORD SEED
Applications for the 2023 Stanford Seed Transformation Program are open until June 1st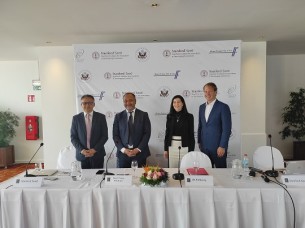 An information session with Jeff Prickett, Global Manager of Stanford Seed took place last week at Carlton.
Last Friday, Stanford Seed hosted its information session for the first time in Madagascar last week at Carlton Anosy. The event was co-sponsored by the U.S. Embassy Madagascar and Henri Fraise Fils& Cie.
Jeff Prickett, Global Director of Stanford Seed explains more about the program. "Stanford Seed is an institute based within the Graduate School of Business at Stanford University that has existed for about 10 years. We have been running our programs in Africa since 2013 and who are looking for the leaders of SMEs (Small and Medium Firms) in Africa and South Asia who have an aspiration to really grow their business and have a positive impact on their firms and on the communities in which they work.
We run business acceleration program with many touch points that help the leaders themselves, their management teams and apply those learnings at the firm level, to grow their business and have a positive impact, obviously in a community in which they are working."
"In terms of market expansion, about 50% of the businesses who go through our program enter into a new geography. That could be the US, that could be Africa, that could be South Asia. Remember in the classroom, you will be sitting with hundred plus other CEOs from 25 African countries. There is a huge opportunity to learn from other CEOs along with our faculty and our staff and to penetrate new markets. That's why we think it is a huge opportunity that will obviouslybe helping you to grow your business and be ready for investment, whether that will be debt or equity.Companies that through our program have access to about a billion dollars in equity and debt, and that helps to found their growth and expansion."
The event saw the participation of the US Embassy Madagsascar'sChargéd'Affaires, Amy Hyatt, herself a Stanford University, and US graduates Thierry Rakotoarison, Executive Secretary of Stanford Seed, and Marcellin Andrianarivelo-Razafy, General Manager of Henri Fraise Fils& Cie.
Amy Hyatt reiterated that 20 percent of Madagascar's total exports go to the United States, and that the US is committed to supporting the private sector in Madagascar like "MpirahalahyMianala". She added that "Stanford Seed is among the best business programs that the U.S. has to offer to bring the country and the region to the next level."
"Applications are currently opening until June, 1st. After that point in time, we look at the first setof applications according to our base criteria. Do they meet the minimum revenue requirements? Then we look at the paper applications for those who are qualified and then we shortlist from there and will do some interviews. That interview process will take place across the months of July, August and September. And at the end of September, we will offer spots to about 120 companies in Africa and 80 or 90 from South Asia in the program that will start next January." – Jeff Prickett explained.
Up until today, the alumni network has no Malagasy representative, and 70 percent of participants are men. Women are highly recommended to apply.
"We are very excited we are here in Madagascar. We have done some social media outreach in the past but nothing as intentional as we are doing now thanks to the Fraise Group and the US Embassy for helping to bring us here, the chargé being an alumni of Stanford and Aymeric Fraise, being an alumni of Stanford as well. So, what we are looking for in Madagascar is a strong group of business leaders to join the program, to start to create that network. For example, we have had 150 business leaders go to the program from countries like Ghana, Kenya, Nigeria, and those businesses now are working together to continue the impact of the program beyond a year-long program. Could we in 5 years have 30 or 40 business leaders who have gone to the program who have started to grow, to create more jobs, really catalyzing that growth, focused entrepreneurial ecosystem in Madagascar, and so working with other organizations like AmCham, to really have a positive impact, and make Madagascar known for entrepreneurship in the world." – added Jeff Prickett
As a reminder, applications are open to SMEs making an annual revenue of US $300K – 1.2 million. However, companies that make not far less than $300K might be eligible depending on its sector and its impact.

By Kenny Raharison