THE AMCHAM POST OCTOBER 26 - 2019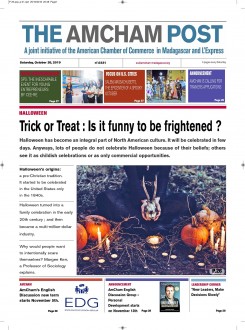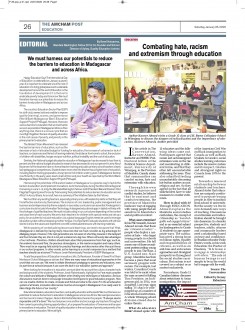 Halloween through the years as an American
By Timothy Fallon and Fiona Fitzgerald
October arrives to the United States bringing cooler temperatures, fall foliage, flannel shirts, sweatpants, and cozy evenings. This beloved time to American's offers the last glimpse of warm weather as we say goodbye to Summer. While the drop in temperature make some groan, most are excited about the ambience that accompanies the Fall.
Fall in New England offers apple orchards which craft delicious products such as ciders, hard ciders, cider doughnuts, and fresh apple pies (an American Classic). Fall in California can simply make for a desperate break in hot and dry weather. All across the country the changing of the leaves means one thing: Halloween is coming. This wonderful holiday comes with pumpkin patches, haunted houses, hayrides, and an overall spooky vibe.
How Halloween is celebrated takes on many different phases throughout the years. The holiday means something completely different to an adult compared to a child. In some ways, the excitement leading up the climax on the 31st parallels the excitement that the Christmas season has. However, unlike Thanksgiving and Christmas -- holidays dedicated to giving thanks and celebrating with family -- Halloween is just about having fun, dressing up, and perhaps the most important tradition of all: carving pumpkins. This consists of going to the pumpkin patch, choosing the most perfect pumpkin you can find, gutting it, and carving a scary face into the side. Every night, a candle is lit inside the pumpkin to give the notorious orange glow of October. Halloween gives a person an opportunity for a single night to dress up as someone or something else. People spend weeks concocting the perfect costume and piecing together a look.
For young people (ages 4-18), Halloween night means trick or treating around the neighborhood with your friends. Trick or treating is the term dedicated to the act of walking door to door, and chanting "trick or treat, smell my feet, give me something good to eat." In exchange, homeowners offer a small sacrifice to the children: candy! Kids roam the neighborhood with pillow cases trying to earn as much candy as they can. A really good costume can reward you with extra candy! It is an innocent and fun evening for everybody involved and by the end of the night one feels very fulfilled -- especially in their stomachs. After years of strolling the same streets, a kid knows which houses have grumpy tenants who don't answer the door and which ones have the scariest decorations or the best candy bars. It is truly a unique and amazing night.
As the years go by and one gets older, the candy is swapped out for alcoholic beverages and massive costume parties. From the ages of 18-30, adults step it up a notch, spending copious amounts of time and money on costumes. A kid might cut a hole in a white sheet, yell "BOO!" and call it a ghost. An adult may take more extreme measures like buying expensive costumes and props, or dying their hair a different color. A classic costume could be a favorite movie character, or a princess, or a superhero. The possibilities are quite literally endless and creativity is encouraged.
As with many things in life, Halloween comes full circle. When once you were the kid trick or treating, you can suddenly find yourself with two choices: being the grumpy old person who doesn't answer the door, or joining in on the fun and passing the torch to the next generation.
THE AMCHAM POST OCTOBER 26-2019