THE AMCHAM POST NOVEMBER 02 - 2019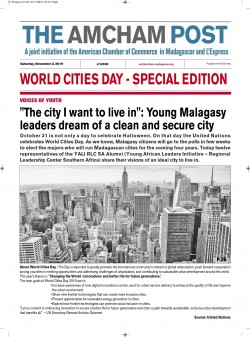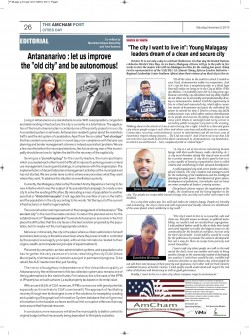 Antananarivo: let us improve the "old city" and be autonomous!
By Co-written by Mendrika Ifaliana Raharifidy and Yvon Kamena
Living in Antananarivo is a real obstacle course. With overpopulation, congestion and deteriorating infrastructure, the city is currently in a total failure. The application of the local urbanism plan is certainly one of the priority projects in our city
A scrambled system on all levels. Antananarivo residents groan about the relentless traffic and the old system of canalization. Apart from the so-called "fuel shortage" that has created consumers' panic in recent days, non-compliance with the land-use planning and border management scheme is indeed a persistent problem. We are a few months before the municipal elections, the future strong man of the municipality should know how to tighten the belt for the recovery of the capital city.
Serving as a "punching bag" for the country leaders, the municipal teams which succeeded each other found it difficult to impose its policing powers on land use management, housing and buildings, in compliance with the original plan. The implementation of decentralized land management activities at the municipal level has not started. We are under lame control, where everyone does what they want where they want. To address this situation is nevertheless a priority.
Currently, the Malagasy state led by President Andry Rajoelina is turning to his new initiative which was the subject of his presidential campaign: to create a new city to solve the existing difficulties. By relocating a mass of population to another area that is "Ambohitrimanjaka", it will regulate the overflow of cars in the traffic and the population in the city according to his words. Yet the layout of the current infrastructure is in itself a huge loophole.
The reconstruction and improvement of the management of Antananarivo "The ancient city" is the most favorable solution. Conduct the planned works for the establishment of "Tanamasoandro" towards Antananarivo and solve in the first place the difficulties that this city faces is the best solution proposed by the population, but it is maybe not the most appropriate solution.
Moreover, intrinsically, the city is the place where a citizen administers himself and where democracy is therefore exercised, where the power is held or controlled by the people (sovereignty principle), without discriminations related to their origins, wealth, and competence (principle of equal treatment).
Poisoned by corruption, archaic administrative systems, and a population who has forgotten the very essence of civism, rebuilding the city CUA (Urban Municipality of Antananarivo) remains a project in permanent progress. To be rebuilt, the AUC needs more than just funding.
The vision of budgetary independence of the Urban Municipality of Antananarivo by the reinforcement of its tax collection system also remains one of the big alternatives to this need of funds. For instance, this is the case of the IFPB or (Property tax on built surfaces), a build property tax based on its rental value.
images/AMCHAM/AMCHAMPOST2019/The_AmCham_Post_November_2.pdf