THE AMCHAM POST NOVEMBER 23 - 2019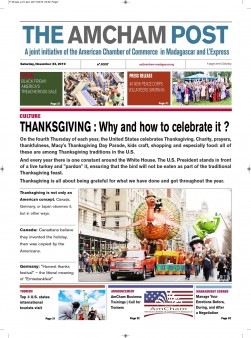 THANKSGIVING
By Timothy Fallon
Thanksgiving is a tradition unlike many others. The beauty of this holiday are the small traditions within the grand ones. Thanksgiving marks the end of the fall and the onslaught of winter. Many northern states begin to experience the years first snowfall and states further south feel the crisp and cool air that is expected during the Thanksgiving Holiday.
Proudly referred to as 'Turkey Day,' Thanksgiving is a holiday whose main event is a massive feast. What's not to love? Parents, grandparents, aunts, uncles, friends, girlfriends, boyfriends and others all gather around the Thanksgiving table to partake in a meal so large that it only comes once a year. Dishes are prepared hours and days in advance with everyone often contributing to the feast. Can't-miss dishes include stuffing, mac and cheese, mashed potatoes, sweet potatoes, cranberry sauce, and of course: a huge roasted turkey.
The tradition is borne out of a day of thanks between the Pilgrims (America's earliest settlers), and the Native American's (commonly mislabeled as "Indians"). The great feast can be traced back to 1621, when the colonists of Plymouth -- now a part of the state of Massachusetts -- and the Wampanoag Native American's participated in the First Thanksgiving. Legend has it that a Native American by the name of 'Squanto' took some of the pilgrims under his wing to show them the trades of living off the land. He taught them how to cultivate corn -- a plant crucial to survival -- and how to fish. He showed them which nuts and berries are rich in nutrients and which ones are poisonous and could make them sick or kill them. The Pilgrimsh adjust endured a long journey over the Atlantic Ocean after leaving England for a chance at a better life.
They arrived in Plymouth depleted of supplies and incredibly malnourished. Without the help of Squanto, it is likely they would have died off completely. What happened instead was a beautiful cultural exchange and one of the sole positive relationships between a Native American tribe and European settlers. More often than not, this relationship seeded in bloodshed and death for both parties involved. It is said that the First Thanksgiving was a feast as a way of the Pilgrims to give thanks to the Wampanoag for helping them obtain their footing in America. This tradition continued for more than two centuries and into the Civil War. In 1863, during the height of the Civil War, President Abraham Lincoln declared the fourth Thursday of every November "Thanksgiving," a national holiday.
Now, in 2019, Thanksgiving means family. It is the day of thanks; a time for us to reflect on all the good we have in our lives and enjoy a meal to honor those we love. In my family, the tradition breathes healthily. With Thanksgiving falling on a Thursday, the surrounding Wednesday to Sunday are all a part of the celebration. My extended family has all grown and dispersed throughout the country. On the days leading up to Thursday, everyone makes their pilgrimage to my parents house; where Thanksgiving has lived for as long as I can remember. We eat and drink and laugh until our bellies hurt while we honor traditions that have lasted us a life time. For example: my family competes in a week long table tennis (or ping pong) tournament at the house. Tensions get high and inter family rival ries develop. By the end of the week a new champion is crowned and awarded a trophy that is handmade by my cousin, Emma. In addition to the ping pong tournament, epic card games and board games are played around a table set for a large crowd. As a wise man (or possibly one of my cousins) once said: "the wine flows like wine."
The stresses of a long work year disappear during Thanksgiving week. It is a time to unwind and forget about the pressures that life brings. On the big day, the foodis presented on the table in a display of gourmet cooking and hard work. My parents have spent days preparing the feast, and my cousins and aunts and uncles have traveled a long way to enjoy it. In a family that has largely grown up, we all feel like children again for Thanksgiving. For me, this editorial is a small way for me to pay homage to the family that brings me so much joy and to say "Thanks" for all of the good fortune I have. I will be celebrating this year from Madagascar and I plan to share as many of these rich traditions as I can. In the spirit of Thanksgiving, I can happily say I am thankful for my family.
SOURCES: History.com
images/AMCHAM/AMCHAMPOST2019/AmCham_Post_11_23.pdf