THE AMCHAM POST JANUARY 25- 2020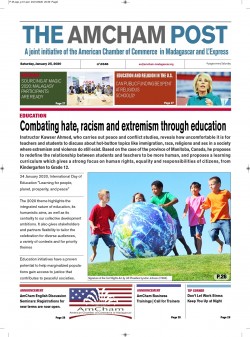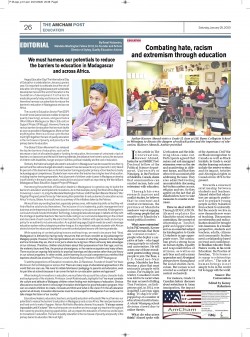 WE MUST HARNESS OUR POTENTIALS TO REDUCE THE BARRIERS TO EDUCATION IN MADAGASCAR AND ACROSS AFRICA .
By Ravel Notoavina, Mandela Washington Fellow 2018, Co-founder and School Director of Ayhay, Quality Education Activist
Happy Education Day! The International Day of Education is celebrated on January 24 every year. It is important to celebrate since the role of education is to bring global peace and sustainable development around the world. Education is the foundation of development. It is the tool to eradicate poverty today and tomorrow. We must therefore harness our potentials to reduce the barriers to education in Madagascar and across Africa.
The country's Education Sector Plan (ESP) for 2018–2022 seems bold and credible to improve quality (learning), access, and governance (World Bank Madagascar Basic Education Support Project (P160442). However, there are various barriers to education that we must tackle as soon as possible in Madagascar. More so than anything else, there is a vicious cycle that we must fight together: the lack of quality education is the root cause of poverty, and poverty is the primary barrier to education.
The Global Citizen Movement has released the top ten barriers of education; such as the decrease or lack of allocated budget or funding for education, the increase of untrained or lack of teachers, no classrooms and the lack of learning materials, the distance from home to school, the exclusion of children with disabilities, hunger and poor nutrition, political instability and the cost of education.
Similarly, the National budget allocated to education in Madagascar has decreased to less than 15 percent and the national budget allocated to research has decreased to only 0,01 percent in 2017. About 80 percent of the teachers have no formal teacher training and public primary school teachers clearly lack pedagogical competences. Students learn more when the teacher has a higher level of education, including teacher training preparation. And 47 percent of children under 5 years in Madagascar develop insufficiently in the early years due to malnutrition and poor health as reported by the World Bank (Madagascar Basic Education Support Project (P160442).
Harnessing the potentials of Education leaders in Madagascar is a great as way to tackle the barriers to education and implement innovations. As to that example, during the West Africa Regional Convening in June 11-12, 2019, the Mandela Washington Fellows 2018 (President Barack Obama's YALI Flagship Program) joined forces by "Harnessing their potentials to reduce barriers to education across Africa" in Accra, Ghana. As a result, here is a summary of the initiatives taken by the Fellows:
We must train any existing teachers, especially primary ones, with leadership skills so that they will find effective solutions by themselves. The inclusion of civic leadership, public management and business and entrepreneurship theme subjects in secondary curriculums are essential. Kindergarten's curriculum should include Information Technology. A designed educational apps in tablets will help with the shortage of qualified teachers. We must include coding in our curriculums depending on the context and class level of each country. We are to train teachers for children with special needs and set up a policy for an authentic inclusive education. As a global language, English needs be used to leverage education system without despising mother-tongue. It is important to educate students with African stories to know the values and implement concrete contextualized lessons with learning materials.
While speaking of contextualizing lessons and teachings, we need to be aware that "first, Madagascar is blessed by having many resources that we must consider as big advantage for Malagasy people. However, if the next generations are not aware of what they possess in the backyard and how fortunate they are, then it is not just a shame but a big loss. Others will surely take advantages of our richness. Therefore, children should learn about their possessions from their age; such as, the endemic fauna and flora, the precious stones/gems, or the marine ecosystem and many others. There must be an ongoing field activity for practical learnings and discoveries rather than just theory in our school programs. In other words, active learning is a crucial component as a method that teachers should use at school." Professor Jonah Ratsimbazafy, President of GERP Madagascar.
To add the propositions of Education innovations, Mrs. Zo Raveloson, Founder of Sweet First Years Montessori School Madagascar advises that "there are many ways of educational approaches in the world that one can use. We need to initiate Montessori pedagogy to parents and educators, even for part time at schools because it can cover the lack in our education system and approach."
When looking for innovations in education, we must take into account the culture, character traits and backgrounds of the students. Professor Jonah Ratsimbazafy, highlights that "we must consider the culture and attitude of Malagasy children when finding new techniques of education. Serious discussions must be done to encourage innovation techniques for good education program. How can we enable children to create, innovate and think and what is the vision? In the all education system at all levels, innovative discoveries must be encouraged in Madagascar if we really want to take charge the future of our country."
Educational leaders, educators, teachers, and quality education enthusiasts! We must harness our potentials to reduce the barriers to education in Madagascar and across Africa. We need perseverance and hard work to make it happen. Nelson Rolihlahla Mandela cheered his people: "It always seems impossible until it's done". We must empower one another and encourage any teachers throughout their career by providing training opportunities. Let us prepare the educators of tomorrow and be open to innovations in education. The lack of quality education is the root cause of poverty, and poverty is the primary barrier to education. We must fight.
images/AMCHAM/AMCHAM_POST_2020/AmCham_Post_25_01.pdf