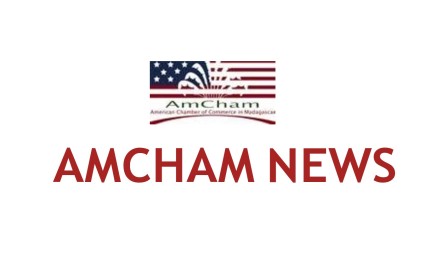 NEW MEMBERS
MEMBERSHIP INFORMATION
TRADE SHOWS
The AmCham family is growing. Welcome to AmCham's newly approved members
Lambà: Fashion industry
Contact: Mrs Eva Rakotoarivony This email address is being protected from spambots. You need JavaScript enabled to view it.
Madagascar Products: Collection, processing and exports of local products (vanilla, cloves,cacao..)
Contact: Mr.Tejjy Body This email address is being protected from spambots. You need JavaScript enabled to view it.
Miellerie de la Grande Ile: Beekeeping and honey marketing
Contact: Mrs Sam Paula Rasoarimanana This email address is being protected from spambots. You need JavaScript enabled to view it.
Kolots'Art Aloalo: Arts and crafts, decorations
Contact: Mr Bernard Mancaud This email address is being protected from spambots. You need JavaScript enabled to view it.
HP Conseils & Services SARLU: Accounting service, trainings, event organization, facility management.
Contact: Mrs Hasina Mialisoa Andriantsiory This email address is being protected from spambots. You need JavaScript enabled to view it.
Important membership information
AmCham members' Annual General Meeting will be held in late June. Invoices for 2022 membership fees have already been sent to AmCham members. Members are kindly asked to pay their dues by the AGM in order to be able to vote. Non- payment of annual dues is considered as resignation.
Companies interested in joining AmCham are required to fill in an application form available for download through this link AmCham application form.
Membership applications must be sent to This email address is being protected from spambots. You need JavaScript enabled to view it. or directly to the AmCham office Ankorondrano.
International trade shows:
What do we have in store for 2022?
Getting closer to your prospects and potential customers remains the most efficient way to build trust. We acknowledge how costly it is for companies to pay for a booth and travel from Madagascar to the United States. This year, the AmCham will facilitate its members' participation to international trade shows in the United States.
Have a look at the interesting trade events below.
For more information about these shows, please feel free to reach out to AmCham.
Contact: This email address is being protected from spambots. You need JavaScript enabled to view it. | +261 33 15 004 74

SOURCING at MAGIC's Las Vegas gives fashion businesses, brands, and sourcing professionals the opportunity to connect and collaborate with a global community of manufacturers, suppliers, and service providers - both in-person and online. SOURCING at MAGIC provides access to cutting-edge fashion technology, sustainable resources, educational content, networking, and extended visibility into the industry's most critical global issues.
Targets and participants :Textile and apparel companies Handicraft companies Clothing and fashion
Date and venue: August 7-10, 2022 Las Vegas Convention Center, Las Vegas, NV
Amcham experience YES
The NEW YORK NOW Summer Market brings together brands, designers and buyers to connect and discover a world of inspiration.
Targets and participants : Home décor: handmade baskets, hand thrown pottery, tabletop, outdoor accessories for the home Housewares, gifts, fashion, Modern metal jewelry
Others: gourmet foods, gourmet edibles
Date and venue: August 14-17 Javits Center, New York City, NY
Amcham experience YES
Natural Products EXPO EAST/ WEST is the best place to reach natural, organic, and healthy lifestyle buyers.
An opportunity for getting one-on- one time with retailers, distributors, health practitioners and food service professionals.
The best place to tell your story and network with the food industry
Targets and participants :Companies specialized in natural food – specialty food products (including spices, vanilla, cloves)
Date and venue:
EXPO EAST September 28 – October 1, 2022
Pennsylvania Convention Center,Philadelphia, PA
EXPO WEST March 7-11, 2023
Anaheim Convention Center, Anaheim, CA
Amcham experience YES
Tucson Gem and Mineral Show has enjoyed international stature since the 1970s, and was the first gem and mineral show to bring the hobby enthusiast, the public, and the curator/ professionals together for discovery and discussion.
Targets and participants: Companies specialized in mineral, fossil, jewelry, lapidary crafts
Date and Venue: February 9-12,2023 Tucson Convention Center, Tucson, AZ
Amcham experience NO