THE AMCHAM POST APRIL 14 2022

YOUTH INITIATIVES
Gasy Fruit aspires to get Madagascar out of food insecurity and to provide organic and healthy food.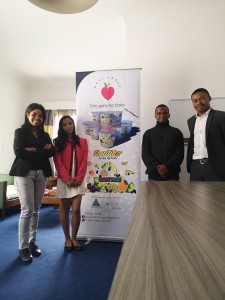 Madagascar is blessed with a rich variety of fruits and vegetables, but is yet classified among the countries most affected by food insecurity. A lot of Malagasy people live in very poor conditions: no food and no clean water. We have created Gasy Fruit to tackle food insecurity issues and improve the life conditions of the Malagasy population.
A very young company.
Gasy Fruit was created in January 2022 and operates in food transformation. Today, our production is focused on fruit transformation like mashed fruits called #fruitiko. Providing organic and healthy food and reducing the rate of food insecurity remain at the heart of our actions.
The company is a way for us to achieve four Sustainable Development Goals: Zero hunger (SDG2),health and well-being promotion(SDG3),the fight against climate change (SDG13), and responsible consumption and production(SDG 12)
Zero Hunger. It is no secret that an estimated1.3 million Malagasy people, in the southern part of the island starve to death (or die of hunger / starvation). It is now urgent to take action and help those vulnerable people. As a contribution, Gasy Fruits SARL allocates a portion of its benefits to support the most vulnerable.
The promotion of health and well-being. The company constantly seeks to satisfy consumers through presentation, taste and cost. Providing healthy, nutritious and organic food to ensure the good health of our consumers is among our main goals. We have seen that most diseases such as diabetes, obesity, cancer stem from malnutrition. Our Fruitiko product encourages people to eat fruits everyday at a very affordable price.

Fight against climate change. To achieve that, we have adopted a couple of strategies. The first one is the "Manatitra pot 10 mahazo fruitiko 1". It can be as simple as sensitizing Malagasy citizens not to throw plastic bottles everywhere, as a way to mitigate the impact of climate change. The second strategy is "Un pot vendu - un arbre planté ". Literally, "if you buy one cup, we plant one tree. "More than 30,000 ha of forest disappear through human actions. We really need to provide solutions to such an alarming situation. Gasy Fruit has adopted this strategy to make the Malagasy population aware of the value of forests and biodiversity and to incite them to take relevant actions.
Responsible consumption and production. Madagascar is ranked among the countries most hardly hit by malnutrition; but at the same time, the country is also one of the biggest food wasters in the world. With a very low purchasing power, Malagasy people do not necessarily have the means or just do not have the habit of buying fruit everyday. Overstocked fruits are then damaged or even fermented, hence, meant for garbage. What huge losses for Malagasy farmers! Hence the idea of creating Gasy Fruit which will help in reducing food waste and bring rural development by encouraging Malagasy farmers to increase their production.
Gasy Fruit promotes the Vita Malagasy label. We seek to reach not only the local but also the international market. We want to prove that the "Vita Malagasy" can outperform products from other countries. It is essential for our economic growth and development that we support our local products. And our slogan summarizes it well "Tsirogasy ka tiako "
I encourage you to create something made in Madagascar and never to stop improving it. I really believe that one day Malagasy products will gain the global recognition they deserve."
By RAZAFIMAMONJY FaniriantsoaRindranirina, Founder of Gasy Fruit SARL (This email address is being protected from spambots. You need JavaScript enabled to view it.)