THE AMCHAM POST MAY 05 2022

FIM 2022
Digital innovation and support to start-ups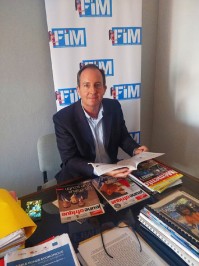 Nicolas Martin, General Manager of PREMIERE LIGNE
For the upcoming International Fair of Madagascar of May 19-22, 2022, the PREMIERE LIGNE event agency has decided to highlight digital innovations and support Malagasy start-ups!
The "Digital Pole" at the fair will be under the active sponsorship of the Ministry of Digital Development, Digital Transformation, Posts and Telecommunications, and with the support of the Ministry of Communication. Several start-ups offering outsourcing and digital services will be present, including our partner SMARTELIA VIRTUOLOGY which gives students and women entrepreneurs an opportunity to validate their ambition in the sector.
On the other hand, with another partnering start-up, Manoova, it has been made possible to buy advance entry tickets at a lower price of 5,000 Ariary with just one click on www.ticketplace.oi. For the record, this is the largest Malagasy online platform for selling large-scale event tickets: more than 150,000 tickets have been sold since its launch in September 2021.
For this year's B-to-B actions and animations, several workshops will focus on supporting activities and sharing sessions to encourage and guide entrepreneurs tomanage properly and effectively their project. The event will include: original success stories, coaching sessions, demonstrations, speed-recruiting, workshop-debates covering topics that are essential to the country's economic recovery.The schedule will be available very soon on our usual media for public access.
At the level of exhibitors, we could not only note the strong comeback of renowned companies in Madagascar that are seeking – more than ever – opportunities, but especially are exploring possible local collaborations. That said, 27% of participants are new customers, offering products and services adapted to the current context of crisis recovery. Also, we will have a chance to discover some international exhibitors ready to invest and get involved in the economy of the country.
This 16th edition, still under the high patronage of H.E. the President of the Republic of Madagascar, will be the must-attend B-to-B event of the year with more than a hundred exhibitors and about twenty programs spread over the 12,000 sqm during the four days.
Follow the important information on www.foire-internationale-de-madagascar.com as well as on our Facebook page: Foire Internationale de Madagascar.

By Nicolas Martin, General Manager of PREMIERE LIGNE