AMCHAM - MONTHLY MORNING ROUND TABLE | APRIL 2023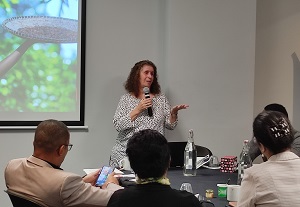 The first Thursday Morning Roundtable of 2023 took place last Thursday at Radisson Blu Hotel, Antananarivo Waterfront.
AmCham members and guests were privileged to have Mrs. Anne Williams, the Mission Director of USAID Madagascar, as our guest speaker.
We would like to express our gratitude for her interesting interventions during the TMRT.
This AmCham's TMRT was sponsored by Taptap Send Madagascar, and without forgetting our honorable CHARITY MEMBER AND OFFICIAL SPONSOR VIMA
Anne William's presentation is available for download here:USAID Portfolio Presentation, MARCH 2023_pdf
AMCHAM 'S TMRT SPONSOR