HUMAN RIGHTS DAY DECEMBER 2019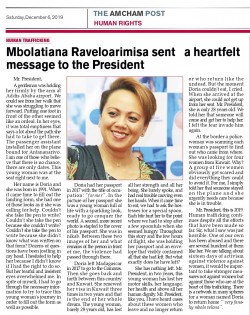 Mbolatiana Raveloarimisa sent a heartfelt message to the President.
Mr. President,
A gentleman was holding her firmly by the arm at Addis Ababa airport. We could see from her walk that she was struggling to move forward. Putting one foot in front of the other seemed like an ordeal. In her eyes, it was total emptiness that says a lot about the path she had to take to get there. The passenger assistant installed her on the plane bound for Antananarivo. I am one of those who believe that there is no chance, there are only dates. This young woman was at the seat right next to me.