CALL FOR EXPRESSION OF INTERESTS TAMATAVE-ANTSIRABE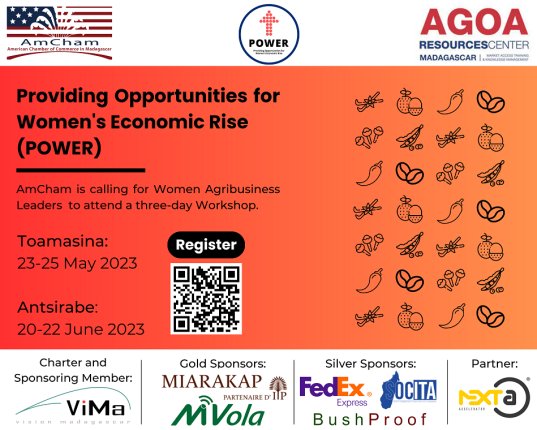 AmCham, in partnership with the U.S. Embassy🇺🇸, is calling for applicants for its Providing Opportunities for Women's Economic Rise-initiative workshops to be held in TOAMASINA and ANTSIRABE.
The program mainly intends to facilitate U.S. market access to women entrepreneurs operating in the agribusiness sector that are based in ATSINANANA, VAKINANKARATRA and their surrounding regions.
♀️ Women leaders and owners who are involved in the agribusiness sector are invited to submit their applications for free capacity building workshops.
Application deadlines:
Toamasina: Friday, 12 May 2023 at noon.
Antsirabe: Friday, 09 June 2023 at noon.
To register, please scan the QR code or click the link below: