THE AMCHAM POST - April 20 2023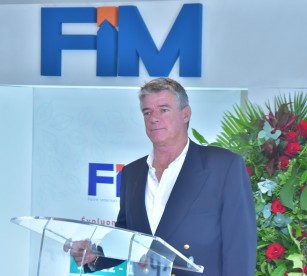 Gérard Monloup, CEO of SPI Forello - Hazovato

We are eight days away from the inauguration of the Foire Internationale de Madagascar.
More than 200 exhibitors from all trades will animate this event. Not only will they offer a range of services and quality products from Madagascar but also from other countries of the Indian Ocean zone and even beyond.
This 17th edition of the FIM is intended to be an eco-responsible one. The organization of this exhibition has invested heavily in this way. The building of the Forello Exhibition Center will be entirely powered by solar energy. The structure is totally made of reforestation wood and the decoration is based on recycled products. Hazovato Forello-Expo will set an example.
The other novelty of this fair is the highlighting of collectives, NGOs, associations, start-ups, public organizations, individuals and craftsmen which are involved in the protection of the environment. And there are many, it was a pleasant surprise to discover so many of them!
A dedicated 600 square-meter space and 20 booths will be graciously offered to these young projects with an ecoresponsible vocation.
This goes from waste recycling to reforestation and clean energy.
A 600 square-meter professional area will also be available for conferences, B-to-B and exchanges between young entrepreneurs.
Half a dozen speakers, including some from France and Canada, will talk about their experience in this field.
Now that Malagasy women play an important role in the economic landscape of Madagascar, women entrepreneurs will also be honored. Many of them and their associations will be present at the show and will enjoy free forums organized in their honor.
Finally, a craft area is dedicated to new products, made in Madagascar and of good quality; these will be the favorite products of the FIM's 2023 edition.
FIM has always been a wonderful meeting place for Malagasy and foreign businessmen. A place where new projects, new companies could hopefully be born and bring achievements in the long run.
Exhibitors and visitors, have an excellent show and many amazing professional meetings.
By Gérard Monloup, General Manager of SPI Forello - Hazovato